Plastics ERP Software
for Injection Molding
Expert Business and Shop Floor Solution
CyFrame's mission is helping injection molders to structure and grow their operation profitably. Our "Ready-To-Use" business and shop floor solutions leverage 30 years of industry experience and know-how.
Engineered to eliminate the need for complex operation workflows and expensive customization, we have a proven track record delivering results faster at the lowest cost of ownership.
Integrating a Complete Order Process
CyFrame software is not just limited to building the "bill of materials" for extrusion or stretched blow molding. Our solution covers the entire order process, tracking every operating step that is pertinent to blow molders.

Production Planning
Automates MRP, forecast-driven purchase orders and work-order generation
Tracks the raw material lots that are received (e.g. resin, color, additives)
Calculates regrind and MRP/inventory and supports insert and over molding as well as In-Mold labeling (IML)
Drag-and-drop scheduling, single and multiple work orders linked to each other

Injection Molding
Monitor real-time production cycles with or without PLC panel option
Track accepted to rejected pieces ratios
Calculates production costs and profit margin (by good part packaged, by day)
Track KPIs (i.e. speed, efficiency, yield, raw material consumption, rejects, downtime)
Supports multi-cavity, family molds, subassembly, multi-level routings and subcontracting

Shipping
Select finished goods exact locations in multi-warehouses
Automated material certification and Export required documentation
Track products in-transit from one or multi warehouse to final delivery
Web portal that automates consignments usage and invoicing
Supports mix pallets and kitting
Eliminate Data Entry & BOM Maintenance
CyFrame's ERP significantly reduces the time required to create and maintain new products, place orders and manage production. Furthermore, it efficiently allocates and configures machines, molds, line equipment, blended-recipes and packaging as separate dynamic components that can be quickly attached to finished blow molded products. All changes are instantly updated at the master product, sales quote, order and work order stages to eliminate the need for repetitive data entry saving your business valuable time..
Flexible and Timely Work Order Recipe Management
The flexibility of CyFrame's ERP makes it uniquely able to accommodate changes before, during, and after production. This facilitates recipe substitutions and the tracking of part weights for production to accurately calculate raw material consumption and exact costs.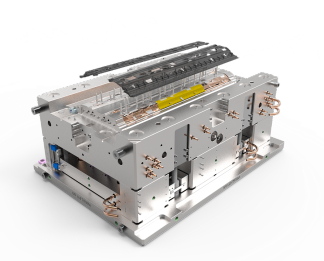 Multi Cavity, Family Mold and Material
Define complex multi-cavity and family molds that keep inventory balanced without losing traceability. CyFrame's intuitive mold configuration easily adapts to last-minute planning changes so that your business can adjust as quickly as your molds. Injection molders must manage plastics recipes as well as predict regrind material coming directly from the production lines and/or from the warehouse.
CyFrame eliminates this complexity by automatically calculating both regrind and virgin raw material required to be on hand for production.
Real-Time Visibility with Shop Floor Data Acquisition
CyFrame live shop floor data acquisition is included as a standard feature, making it accessible to all blow molders, small or large. The solution tracks production quantities and efficiency in real-time while managing lot control, rejects, downtime, setup and production time.
Drag-and-Drop Company-Wide Scheduling
CyFrame's integrated scheduling ensures each department has what is required to fulfill customers' orders to meet on-time delivery:
MRP live verification of virgin resins, colors, additives and regrind material availability
Machine and labor capacity
Detects and rectifies machine and line equipment conflicts
Schedules preventive maintenance
Tracks on-time delivery
Optimizes color changeover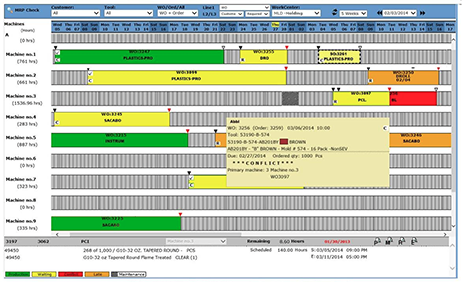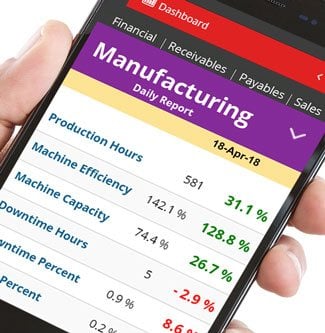 How successful were you today? This week? This month? Year over year?
Access all your sales, financial, inventory and production performance metrics, wherever you are at any time of the day.
Price Lists that adapt to Resin Price Fluctuation
Give your company every opportunity to adjust prices and protect margins as resin costs change. CyFrame fully automates this process, precisely accounting for each product configuration (i.e. resin, color, additives and their respective recipe percentages) to save valuable time. Users can now fully review, update and email a new price list in just a few hours.
Managing in the Profitability Triangle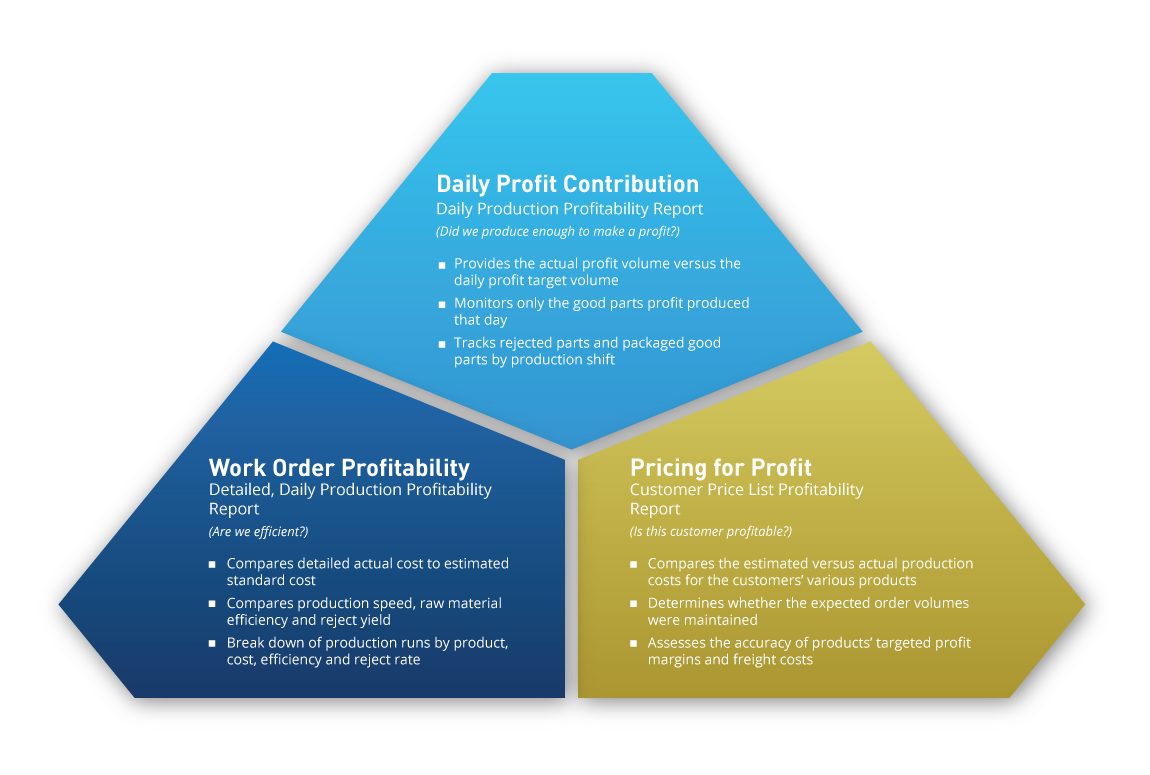 Simple Financial and Costing Integration
CyFrame's easy-to-use financial suite supports multiple companies, currencies, and banks for integration with our manufacturing and distribution components. It also includes a fully functional financial statement generator that can be used worldwide. Supporting multiple plants and warehouses, the CyFrame financial solution automatically generates informative reports when a product is created and tracks estimated standard costs versus actual production costs.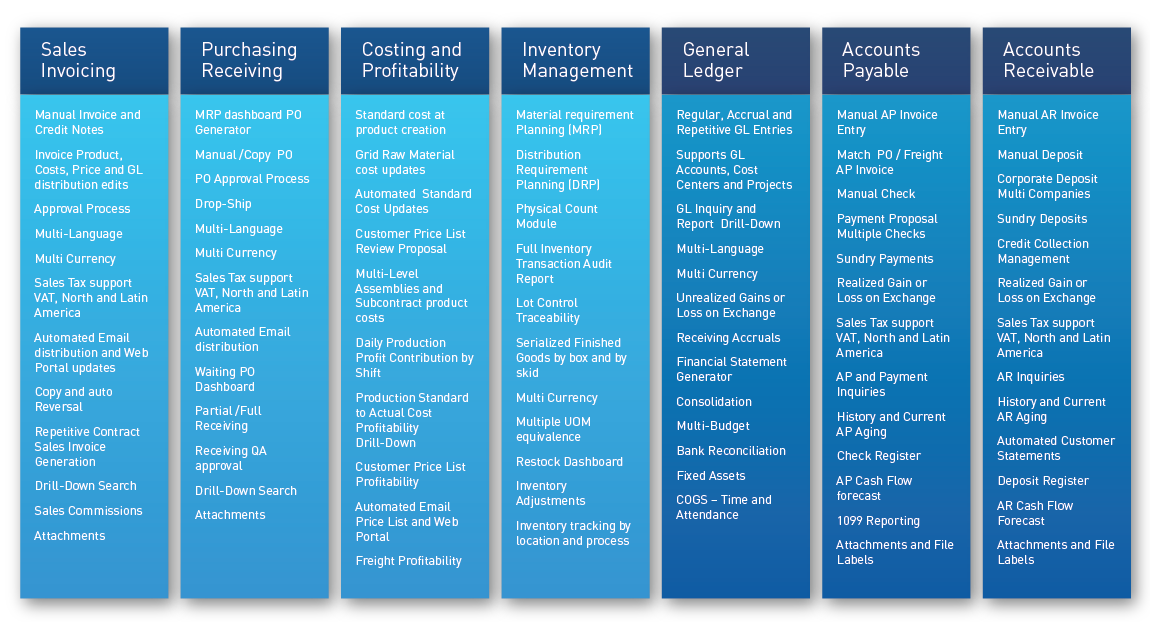 Important Related Resources