The major benefits in half the time at half the cost
The Core ERP-MES solution focuses on only the highest value components of our full ERP. This streamlined approach and accelerated implementation pace immediately creates tangible results that will drive the internal momentum necessary to adopt a structured workflow modeled on best industry practices.
This proven approach makes attaining these tangible benefits viable to every molding and extrusion business that wants to scale up for growth.
Top three benefits of the Core ERP-MES Solution
Fast implementations mean fast results
Long projects create frustration, cost overages and often don't deliver the expected benefits. Our short-term JumpStart engagement creates the internal momentum to keep project leaders focused on milestones to successfully achieve results.
A cost-efficient solution for all major process types
At CyFrame we know an extruder is different from a molder. Our solution is designed to handle those unique differences even within the same plant or multiple plants.
The solution you need today with room to grow
The Core ERP-MES is the foundation of our entire solution and includes all critical functions needed to run your business effectively. Customers who opt for the Core ERP-MES can upgrade to the Full version as needed without penalty.
The Combined Functionalities of ERP and MES
The Core ERP-MES consists of the sales, purchasing and inventory distribution components as well as the manufacturing and shop floor data acquisition systems critical to efficiently run a plastics manufacturing business.
Also integrated are the invoicing and accounts receivable components which provide an interface to your general ledger. All KPIs, costing and profitability reports are included.
ERP FUNCTIONS
MES FUNCTIONS
ERP FUNCTIONS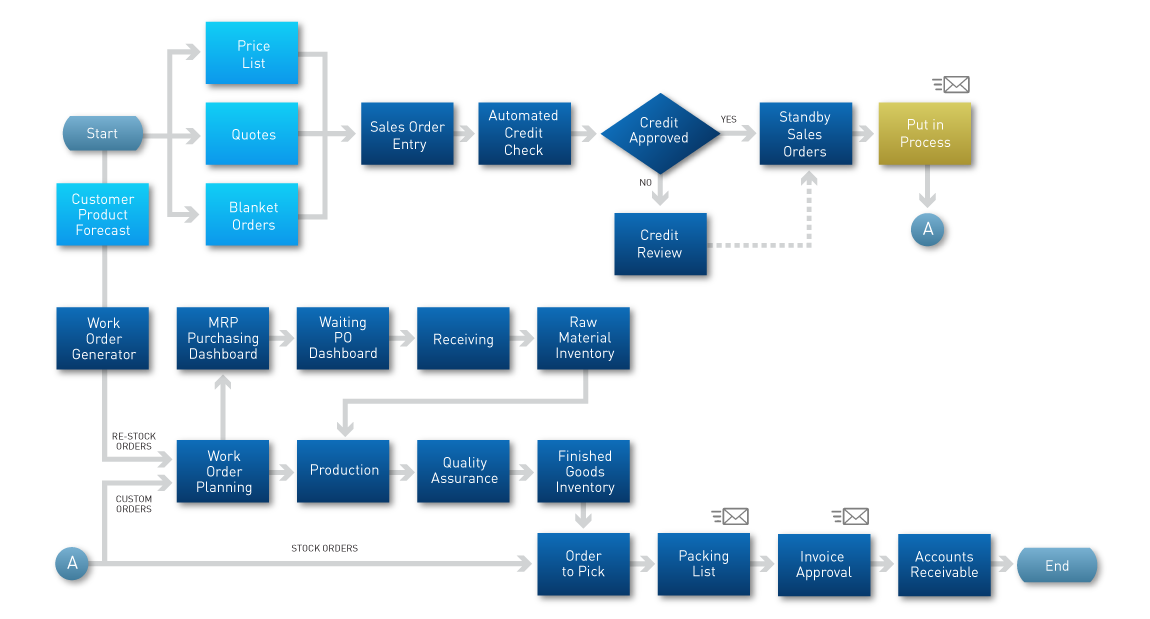 MES FUNCTIONS
CyFrame is totally committed to the plastics industry and to continuous improvement. The Core ERP-MES is an innovation that helps processors achieve excellence. CyFrame is a flexible solutions provider, always interested in further developing new improvements in partnership with our customers. We strive on long-term relationships.
Important Related Resources