Integrated ERP solution for Blow Molding & Injection
"Our mission is to help plastics processors optimize profitability, internal processes and to offer the best possible customer service at the lowest operating cost."

Generic manufacturing ERP software was not designed with plastics processing in mind. They tend to be very heavy and complicated to operate and have an extremely low rate of success in implementing the production and shop floor data acquisition modules.
Grasping the true attainable benefits of an integrated ERP system is probably the single most difficult thing decision-makers must quantify. Successfully implementing an integrated solution must include the complete production process in order for it to provide meaningful bottom line results. CyFrame's made for molding solution, achieves these results with ease, without customization and with significantly less cost and risk.
Top 10 reasons why CyFrame solution provides a significant advantage over Generic ERP software in the market:
Repetitive tasks fear us!

The time required to create and maintain new products, place orders, and manage production within CyFrame are significantly reduced to configure machines, molds, downstream equipment, plastic recipes, and packaging as separate dynamic elements attached to the finished products made at any given stage of the process. Any changes in these elements are automatically updated in the product be it at the master, sales quote, order and/or work order stage, avoiding massive, repetitive, and often unnecessary entries required by the vast majority of ERP software.

How many people does it take to change a work order?

In most generic software, making a change in the plastic raw material due to better possible mixes, availability of resins or acceptable variance in part weight, is next to impossible to modify once the original work order was created. Given the nature of the industry, CyFrame deemed this unacceptable. We designed our solution to be flexible enough to accommodate changes at any stage of the work order: Before, during, and after production to facilitate recipe substitutions and to track part weight during production, to record the exact cost and usage of raw materials.

An MRP that can actually deal with Recipes, Multi-layer and Regrind!

All plastic processors have to contend with plastic recipes expressed in percentage and density regardless the quantity of finished products they produce. Blow Molders in particular must manage effectively multi–layer recipes. Add to this the difficulty of managing regrind material coming straight from the production lines and/or pulling it from the warehouse and you have a generic ERP MRP nightmare to track the raw material.

Dealing with this complexity in the simplest way is what we do to record accurate production costs!

Live Shop Floor data acquisition is never optional, it's always included!

Live data acquisition for the shop floor and the warehouse represents the core reason why CyFrame is the best solution for Plastic processors. For us, Real-Time data acquisition is never "an additional module" to be purchased and is indicative of critical capability always included in an implementation as we believe in the in full integration. Our molding shop floor solution records the production quantities with bar-code labels, which can accommodate lot control requirements right on the shop floor, as well as rejects, downtime, setup time and production time.

Live Warehouse data acquisition is not an option either, it's included too!

Our serialized warehouse data acquisition will track your product with or without detailed warehouse bin locations directly from a lift-truck, a tablet, and a scanner. Shipments are scanned to generate all the needed paperwork, including a fully automated EDI file, commercial export papers, and lot control traceability certification report for each shipment you make.

Live Drag & Drop Scheduling you can share

No need to submit production plans, wait for lengthy updates or manage with hidden, standalone spreadsheets. Our drag & drop scheduling by machine detects conflicts instantly with preventive maintenance on molds or required auxiliary equipment such as calibrators or other possible molding machines as well as other jobs for conflicts including a color warning against on-time delivery. "At a glance" MRP checks will instantly ensure all raw materials are available and the work orders are officially locked into the schedule or pre-scheduled (doted lines) and shared for global visibility.

Live Mobile KPI Reporting

CyFrame generates all production efficiency reports in live mode each time a production entry or reject is generated in the data acquisition system including live tracking dashboards. How well did you do today?

You can read more about KPIs here.

Why push away that price list update to next month?

Given the constant fluctuation in plastic resin prices, product cost updates and consequently reviewing product selling prices has been of primary concern. CyFrame fully automates this process to a few simple steps taking into account the recipe percentages of each resin in each product saving valuable time in eliminating this manual task enabling a full review and the ability update and email a new price list in minutes.

Managing in the Profitability Triangle

A first series of profitability reports are centered on production analytics based on each production run that compares actual to estimated costs and drills down all the way to the detailed production efficiency report. The second profitability report is focussed on a volumetric profitability test on what production is QA approved each day in sales less the raw material costs to find out if it meets the daily contribution to ensure the global enterprise profit target is met. The third profitability series is focussed on the customer product price list by combining the actual production costs, reject rates, expected customer order size and volumes to ensure that the profitability goals are met by product for specific customers.

Keep it simple, financial and costing integration!

CyFrame's simple-to-use financial suite supports multi-companies, multi-currencies, multi-banks which are fully integrated with our manufacturing and distribution components, including a fully functional financial statement generator used worldwide. The CyFrame financial solution supports multiple plants and standard costs are generated automatically when a product is created and then tracks that standard automatically against actual costs when the production takes place.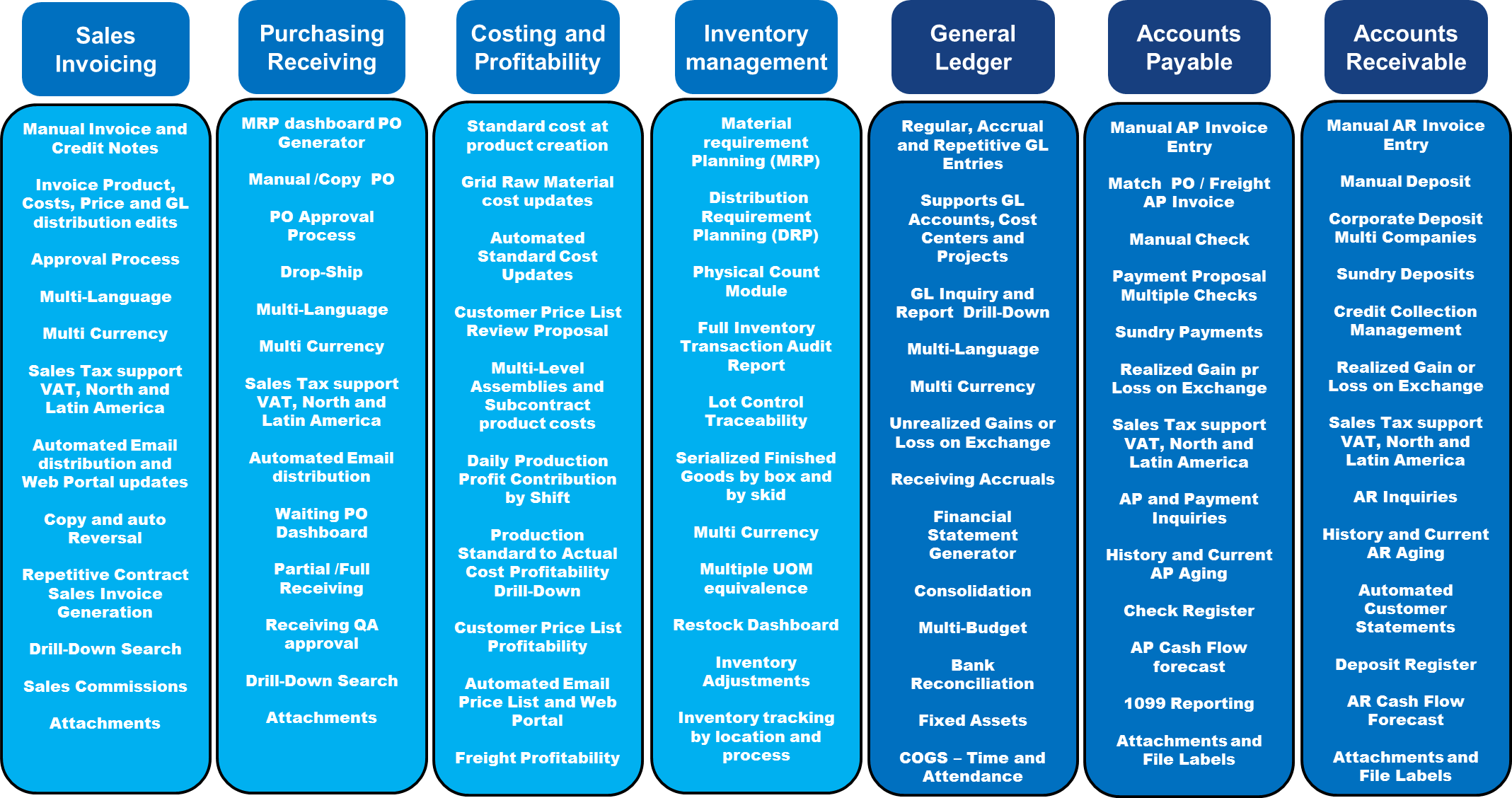 "With CyFrame, I realized my goal of greatly reducing the human element by automating our order management system throughout the company including real-time PLC data capture on our machines and provide me with real-time daily reliable profitability reports. Now when we input an order, it's scheduled, work orders print and follow the job throughout the plant via wireless touch screens. Even shipping documentation is printed from a bar code scan, creates the invoice and automatically updates our financial system."
Melvin C. O'Leary, President
Meredith-Springfield.